Female Finn Viking Dress consists of 6 parts: underdress, overdress, apron, leg girdles, cloak and headdress. Apron was tied with a seperate tablet woven belt, likewise leg girdles. Magnificent bronze jewellery belonged to the costume.
The horizontal seam goes over the top of nipples. The arm ring keeps the long sleeve in its place and holds the length beautifully. The sleeve is so long that it ends to halfway palm, when arm rings are in place. The cut of the piece was likely designed in such a way that the brick wall - tablet woven band that is woven to the fabric meets both the hem of the dress and the wristband of the sleeve.
Overdress
Overdress was either a square piece of woollen fabric, mostly 2/2 twill, or two rectangular ones. The upper part of an overdress was sometimes turned double, sometimes worn plain and sometimes extra small pieces were added to give a folded look. This piece was sometimes decorated using simple stiches. The two rectangulars were sometimes sewn together from one or both sides, sometimes not. The rectangular was sometimes stiched to a tube.
The overdress got selvages and tablet-woven bands woven into the starts and ends of the loom. Some square fabrics were worn sideways. That means that the warp line goes horizontally, not vertically when worn. Colored, patterned tablet woven bands were stiched into the side of wrist and hem.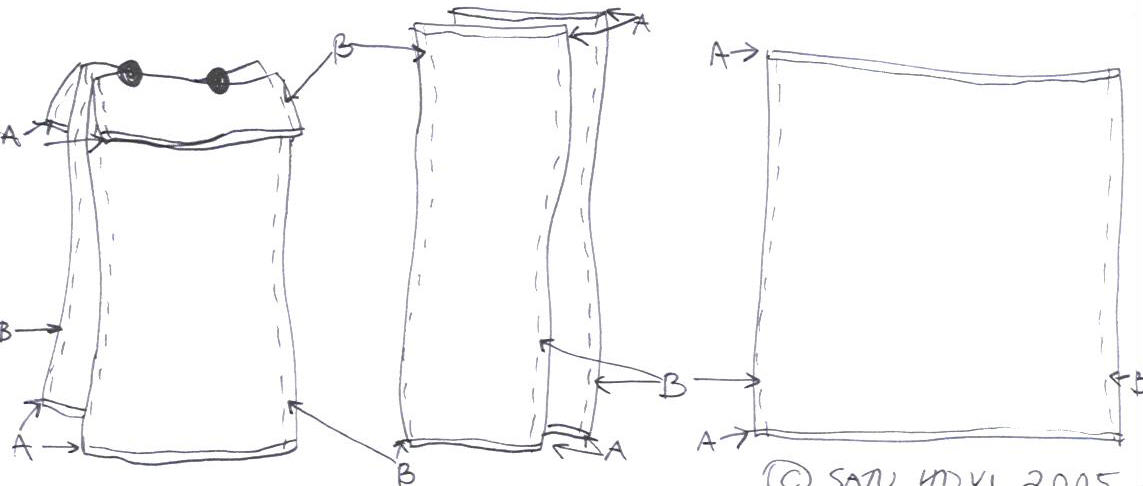 A= two tablet woven bands, first the brick wall - one that is woven to the fabric. A colorful, decorated one is stiched to the side of the first band, or to the selvage if the cloth is worn sideways (A and B switches their places in that case).
B=Double selvage, which is made when weaving the fabric.
The finishing of the woven garment with table woven bands using the woven warp as the weft of the band. First, I took a group of warps (3-6 in tunics) which I used as a weft and placed them to the left through the open warp. Then I turn the tablets and placed the group of warps back to the right  through the open warp.

The overdress was worn on by two round brooches. Chains were hanging from chainholders in between. Sometimes, if the lady was not a wealthy one, the dress was tied with one or two wooden or bone sticks. Sometimes the overdress was stiched from either one or both shoulders.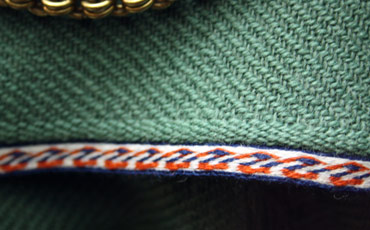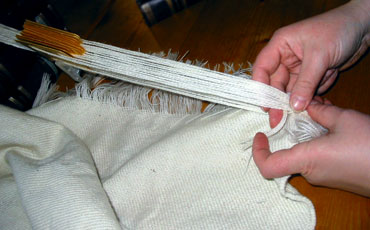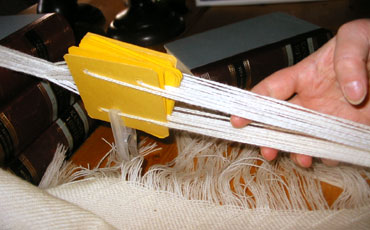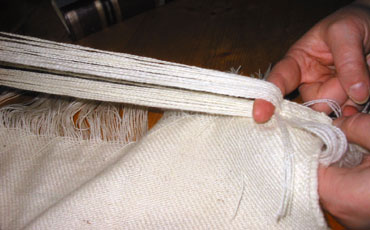 Apron
Unlike Scandinavian Viking ladies, Finnish females during Viking Age always wore an apron. The apron was a rectangular piece of fabric, which was tied around the body with a long tablet woven band. The material was wool, mostly 2/2 twill, with a sentence going down, unlike twill today.
A rich woman from the 10-11th centuries had spiral brone decorations attached to the bottom of her apron. Every apron had a unique decoration, no two similar aprons have been found. For example the richest grave in Luistari cemetery, grave 56, dated between 1025-1050 AD, had probably nine spiral ornaments in line in the bottom of the apron (only five of them has survived).
As a conclusion researcher Lehtosalo-Hilander has written that at first a woman had rich spiral decorations in her apron. Later on, when she became wealthier, she got also the round brooches on her shoulders. Poor women had no spirals, nor bronze jewellery.
Belt
Belt was woven with tablets. It could be one-colored or colorful. The weft was of fiber plant, nettle or hemp undyed (Sarkki). The belt has to go around your body twice and then tied, so make it a long one. Knive was hanging from the belt.The ends of the belt should always be beautifully finished. Some examples: - Make a group of finger looped bands - Make three plaits, about five centimeter long, and stich them together side by side. This technique was found from a grave in Perniö, dated to about 1200 (Appelgren-Kivalo).
This is how to tie a Finnish apron. First, place the apron against your body beyond the waist. Wrap the belt around you once. Then turn the part that is beyond the waist down. Wrap the belt around your waist the second time. Now you should put in place all the equipment that hang from the belt, for example the knife. Tie the belt very tightly.
A typical headdress in the Viking Age Finland was so-called Arch veil (kaarihuntu). There are lot of finds of such headpieces. Sari Raitio made one and is wearing it in this picture (This picture was first published in Euran puku ja muut muinaisvaatteet by Lehtosalo-Hilander, p. 70. Photo by Pekka Kujanpää).
These are the leftovers from an Arch Veil, found from Humikkala, Masku. It is now in an exibition in the National Museum of Helsinki.
In a grave dated to about 1200 A.D. in Perniö traces of a veil have been found. A wollen square veil, which was folded double into a triangel. Into the side of the fold, placed in center, a tablet woven band is stiched for a lenght of about 20 cm. Inside the fold a piece of birch bark was placed. It gives a crownlike look and makes its wearer to look very grand. This technique is introduces in the making instructions of Perniö dress replica - Perniön puku.
Cloak
There are traces from cloaks. They were rectangular, woollen 2/2 twill, with double selvages and tablet-woven bands in the starts and ends of looms. The cloak in this picture is a replica from a 10th century male cloak. Female cloaks looked very likely alike.
Weaving details
The selvages in ancient fabrics were always some way strenghened. In Viking Age Finland the weavers used a technique of double selvage. The double selvage was always plain weave, though the fabric created between the left and right selvage was mostly twill. Fabrics got about 16- yarn - wide plain weave selvage, which turns into double during weaving.
Patterned and colorful tablet woven bands, were stiched either to the side of the finishing brick wall -patterned tablet woven bands or the selvage, depending on how the overdress fabric was placed to wear. Bands were made of thin wool and were very narrow, about 1 cm wide. Weft was made of nettle or hemp.
Sometimes a bit thicker yarn were used for belts. Many of them are about 2 - 3 cm wide.
Patterns were often very complicated ones, and very sophisticated weaving techniques were used. The maker of these bands was most likely a professional band weaver.
Spirals were mostly used to decorate aprons and cloaks. The amount of spiral decoration used in one outfit increased from the start of their appearance (9th century) towards the most fashionable season, 11th century.
Some spiral decoration has been used to finish tablet woven leg bands and 9th century male tablet woven belts.
Bibliography
Published sources
Appelgren-Kivalo, Hjalmar: Suomalaisia pukuja myöhemmältä rautakaudelta. Helsinki, 1907 (1908).
Geijer & Arbman: En detalj i den Gotländska mansdräkten under vikingatiden. Fornvännen 1940.
Hannusas, Susan & raitio, Sari: Morsinkovärjäys - historiaa ja kokeiluja. Turun maakuntamuseon monisteita 12. 1997
Hassi, Terttu: Kasvivärjärin ohjekirja.
Hägg, Inga: Berichte ûber die ausgrabungen in Haithabu. Bericht 20. Die textilfunden aus dem Hafen von Haithabu. 1984.
Ken kantaa kalevalaa. Kalevala Koru 100-year celebration exhibition booklet. 1985.
Lehtosalo-Hilander, Pirkko-Liisa: Ancient Finnish Costumes. Helsinki, 1982
Luistari 1-II. SMYA 89. Helsinki, 1989.
Luistari IV. SMYA 107. Helsinki, 2000.
Euran esihistoria. Vammala 2000
Euran puku ja muut muinaisvaatteet. Vammala 2001.
Raitio, Sari: Kankaiden aloituksia ja lopetuksia sekä putkihulpion kutominen loimipainoisissa pystykangaspuissa. Turun maakuntamuseon monisteita 2. Turku 1991.
Sarkki, Seija: Suomen ristiretkiaikaiset nauhat. HYAL moniste no 18.
Suomen historia I. Weilin & Göös, 1982.
Tallgren, A. M.: Esihistoriallinen puku Viron Pärnumaalta. Suomen Museo 1923.
Thunmark-Nylén, Lena: Dräkt och dräktsmycken på Gotland under vikingatiden. Gutar och Vikingar.
Tomanterä, Leena: Kaksi Köyliön miekkahautaa. HYAL moniste no 16. Helsinki, 1978.
Vahter, Tyyni: Pronssikierukkakoristelun teknillisistä menetelmistä. Suomen Museo 1949.
Working instructions for the ancient dresses from Perniö and Mikkeli.
Zarina, Anna: Neue Funde der Lettgallischen Männertract aus dem 11. Jahrhundert. Textilsymposium Neumünster (NESAT V), Neumünster, 1994
Unpublished sources
Helkiö, Erja Kaarina before called Valtonen), a written consultation and weaving instructions of a men's cloak, February 2001.
Torvinen, Elisa: Vilusenharjun vaippa. Rekonstruktio Tampereen Vilusenharjun kalmiston haudan numero 2 myöhäisrautakautisesta naisten vaipasta. Syventävien opintojen tutkielma, Helsingin Yliopisto, kasvatustieteellinen tiedekunta, 1997.
Valtonen, Erja (now called Helkiö): The weaving instructions for the ancient dress from Eura.
Valtonen, Erja (now called Helkiö): Viikinkimiehen viitta. Artesaanityö. A graduation work from the Satakunta School of Handcrafts.
Working instructions for an ancient dress from Carelia
Non-written sources
Lehtosalo-Hilander, Pirkko-Liisa: a lesson held in the National Museum of Finland in March 12th, 2002.
Riikonen, Jaana: a lesson held in the symposium of ancient Finnish dresses held in Helsinki on February 2nd, 2002.